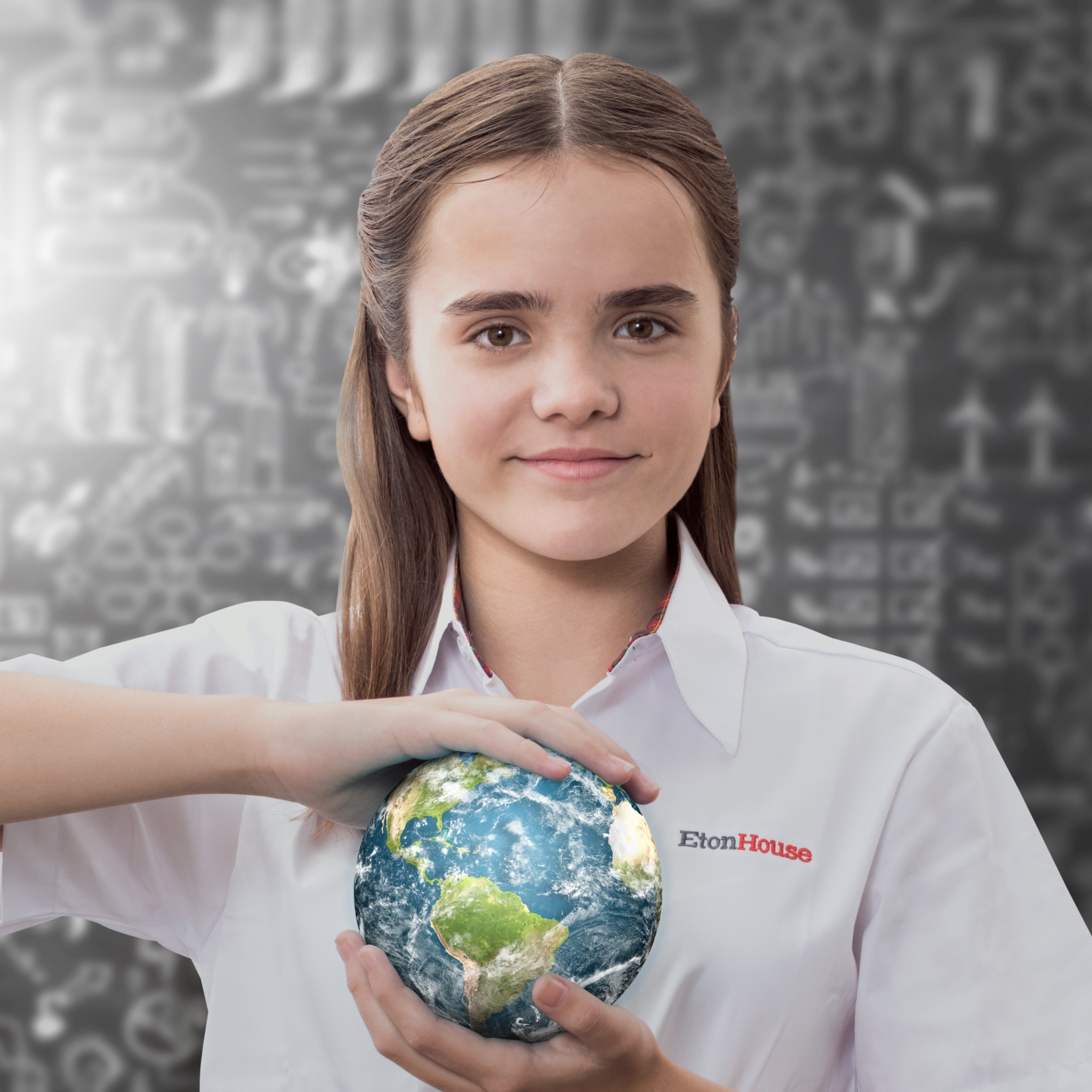 EtonHouse Singapore
July 3, 2020
This year, we ventured into an unexpected and very memorable learning journey as we moved from physical classrooms to virtual spaces in a short span of time. Home-Based Learning (HBL) presented many challenges, but also opportunities for shared growth and development. We speak to Ms Michelle Yong, a full-time working mum with two pre-schoolers at EtonHouse Mountbatten 717, about her experience.
What were your main concerns about home-based learning (HBL)?
Time management. We have 2 young children, Liam and Sydney, and both me and my husband were working from home. I am a full-time teacher, so while handling live sessions for my two children, I also had to conduct live sessions for my own students! We were concerned about how we were going to support both children's learning and how to structure our day so that our children's learning and our work will not be compromised.
I had some doubts about the effectiveness of learning online as compared to learning in school as young children may not be able to focus as much when facing a screen.
I was concerned about having to create learning materials, learning new concepts on my own to continue extending their learning.
How was the HBL experience?
We felt very supported by the school. We were provided timely updates as well as a range of resources. When I had any questions or problems, they were addressed promptly.
The teachers were fantastic, the daily live sessions were very interactive and I was learning new things everyday on how to engage Sydney. The afternoon 1-1 sessions helped reinforce counting skills, letter recognition etc and I was amazed by how creative the teachers were, creating simple activities with powerful outcomes. For example, Sydney's teacher, Ms Jeannie, used pipe cleaners (provided in the take-home learning kit) to create alphabets and used it to engage Sydney. Chuang Laoshi read her a book on colours and would then ask her to look around the room to find an object of that colour. These provided me with ideas on how to continue engaging her at home in a meaningful way. And the best part was, they didn't require any new or fancy materials. The materials used were either already provided in the take-home kit or they were simple household items.
For Liam who is in K2, his lessons were slightly more academic and it was amazing how the teachers were able to still get the attention of the students on screen. Spelling continued every Wednesday and the storytelling, singing, and Chinese lessons went on as usual with the Chinese teacher using a chalkboard to show the children what the proper strokes are.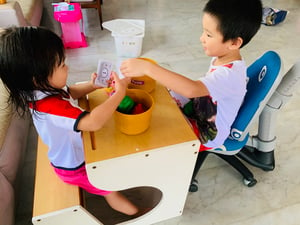 Are there any online resources, take-home kits or other materials that you found particularly useful?
When I opened the take-home learning kits provided by the school, I was surprised by the range of activities and materials that were meticulously prepared with instruction slips, for the children to use throughout the month. It was really useful when we were trying to look for ideas on how to engage the children.
For Sydney, we particularly liked the activity on Emotions (Mandarin) where she made a turn wheel using paper plates which allows her to select her emotions for that day as she turns the plate. I also like the Germ-Buster, a board game that focuses on health and hygiene, created by EtonHouse students themselves.
The online resources (videos on music and movement, dance moves from the teachers, ideas on games with materials provided) were fantastic. There was also a parent portal just for EtonHouse parents, with resources categorised by different year levels. They were so relevant and interactive.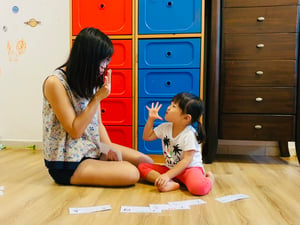 How did you motivate your children and improve their concentration during virtual learning?
We ensured that the environment was appropriate, with no distractions like toys. Children were properly seated at the study table, with learning materials readily available.
Read: 5 ways to set up an ideal learning space at home
We explained to them the importance of being respectful to the teachers conducting the lessons. The virtual sessions are never too long, and they always got a break after the sessions to engage in free play.
What did you gain from this experience?
I am thankful for the time that I had with my children this period. I saw it as an opportunity to instill responsibility and independence in them. They had to make their own beds, help around the house, and make their own decisions around how to manage and spend their time.
It was especially rewarding seeing how they rose to the occasion. They adapted to the new normalcy which was HBL and took initiative to remind us of their class schedules.
The experience clearly displayed how independent, resilient and adaptable children can be when the need arises.
Download Contact Tracing Super Sleuths - a children's book dedicated to Covid-19 contact tracers. This bilingual book explains to children the complex and important work they do.