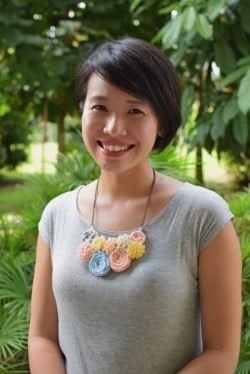 Denise Teo
Denise is a Pedagogist at EtonHouse. Denise joined EtonHouse in 2011 and has 16 years of experience in early childhood education. She holds a Bachelor of Science in Early Childhood Education from Wheelock College. She believes that education is not about the end product, but the process to discover, create and think. She also believes that children have infinite abilities to wonder, explore and create, and are capable of building beautiful and lasting relationships with people around them.
May 22, 2021
HBL is perhaps the most popular and well-known acronym today! Unheard of a few months ago, today it is a reality for most of us- children, teachers, and parents alike. We've seen social media and WhatsApp groups explode with conversations on this topic. While we as a community continue to climb this very steep learning curve of HBL, we thought it will be opportune to hear from someone who wears the hat of a pedagogist and a parent on some myths surrounding HBL.
In this article accompanied with our latest podcast, we discuss the topic with Denise Teo, a pedagogue who joined EtonHouse in 2011 and has 16 years of experience in early childhood education. She is a mum to two boys age 8 and 3. Denise has been a teacher and a principal at EtonHouse and now is part of the pedagogy team that worked very closely with the schools to develop, implement, and support the EtonHouse HBL programme.
You can listen to the podcast here.
Myth 1: HBL is a stop-gap solution- Do children really learn during HBL?
I can see why people see it as a stop-gap solution. Because of the pandemic, schools are forced to close, students are asked to stay home. Learning has to continue somehow and the only option is home. HBL is not a stop-gap solution. In fact, learning is always happening at home, with or without this pandemic.
Generally, students learn many things apart from what is written in textbooks. For very young children, simply living and experiencing life is learning. The short answer is YES students do learn during HBL but we need to understand that learning varies in the different ages of the children. At the same time, learning that takes place at home may take on a very different form compared to learning that takes place in school simply because the home and school are vastly different in context. Learning in the school environment has different implications for individual students, HBL is no different. But one common factor is that learning is taking place.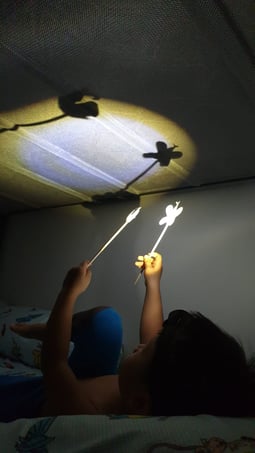 It does vary from household to household, depending on the resources you have at home. For very young children, it is largely dependent on their interests and moods of the day. Sometimes they do meet the objectives of the learning experience, more often they are off doing something completely different.
As parents, we need to acknowledge that going off track is an excellent chance for children to learn as well. For example, my 3-year-old was not following the plan to cut different shapes from paper and sort them. However, he was incredibly engaged in just cutting up a piece of paper into shreds.
Did we meet the objectives to sort shapes? Probably not. But is he much more proficient in using the scissors independently without resulting in a trip to the hospital? Definitely!


Myth 2: Parents become teachers during HBL- Parents are not trained to be teachers. How can they support HBL alongside teachers?
I speak to a lot of parents and many of them share the same sentiments. Everyone is asking, how do you teachers do it? There has been newfound respect and appreciation for teachers all around the world.
We need to start by first understanding what teachers do all the time. Teachers plan experiences and work with children daily. When they plan, they are able to anticipate how the experience will go, and that includes the child who will eat the play-doh and the other who will glue their fingers together. Often as parents, we expect the "best scenario" of the learning plans that have been shared with us while we work with our children. Unless a parent spends a lot of time teaching and engaging their child. They may not be aware of how there needs to be many contingencies in a given plan.
Parents will not be able to flawlessly execute a learning experience with no hiccups. But there are ways in which parents can support home-based learning alongside teachers. Here are 4:
Be realistic - Acknowledging that in addition to HBL there is HBParenting and HBWork. The three, in my opinion, and in the opinion of the general public, do not go well together at the same time. There are days you will not be able to commit to HBL with your child and that is ok. You can shift the experience to pockets of time in the day like the evenings or even over the weekend. Communicate this arrangement with your child's teacher if it is expected of you to provide evidence of learning.
Be present with your child - A general rule of the thumb, the younger, the more present you need to be. Put away your smart devices and devote time to your child.
Be prepared - refer to the learning experience schedule or plan beforehand, prepare the resources needed so you can be ready to work with your child.
Be flexible - with time, allow your child to return to the learning experience if they are not interested at that point in time. As well as with resources (you may not have that coloured paper at home right now, but you can use a white piece of paper and incorporate a painting session with your child).

Basically the expectation from the schools and teachers in this period of home-based learning is not flawlessly executed lesson plans, they are hoping that some learning can continue at home. Most importantly for children to be engaged meaningfully with the ones they love the most.


Myth 3: There is no work-life balance with HBL- How can parents support their children during HBL in a way that ensures that they can continue their work too.
In this season, hours melt into days into weeks and sometimes we aren't aware what day it is. I needed my husband to remind me that we have a public holiday coming up. It does not mean that we cannot achieve this so-called work-life balance.
Here are 5 ways I find helpful in keeping me and everyone sane at home:
Communicate with team players at home - At the top of the day, I usually communicate with my partner or any other adult in the home, the timings in which I need to be on calls or tend to work-related responsibilities without being interrupted. For my children, I tell them who to go to for help during pockets of time. So the person who is on call and doing "important work" will not be interrupted.
Building a routine which includes flexible schedules for days. Children love predictability as much as spontaneity. There is a fixed time for learning, playing, meal preparation, eating and outdoor experiences.
Work at night if needed. Sometimes if I have been constantly interrupted in the day, I devote an hour or an hour and a half in the night after the children go to bed to finish my work. However, I try not to do that as I know I need time to unwind. Which brings me to my next point.
Self Care - Remember to set aside self-care time during parts of the day e.g, when your child naps or eats. A quick stretch, a walk in the estate, a cup of coffee, a call with a friend or family member can be a wonderful mood lifter in times like these.
Instead of wishing this season away, adopt the perspective that we get to make memories with the children and make this time in their childhood count. Let them look back and think of this pandemic season, not one filled with fear and uncertainty but one filled with wonderful memories with the family.
Be kind to yourself as you try to put on multiple hats at the same time. No one has done this before for such a long period of time and I can guarantee that no one is nailing it. What you see on social media is not real. We all feel like we are failing as parents and employees in this season. But right now all we need is a little bit of kindness and patience.
Try and try again. We will get through this!