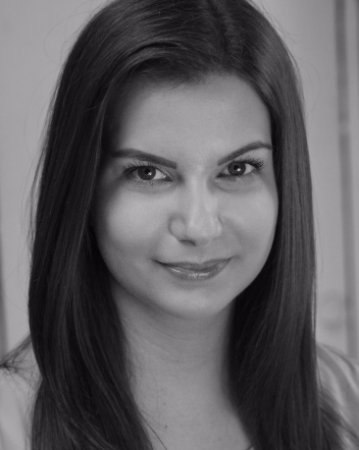 Sabrina Bucknole
"Since graduating from the University of Lincoln with a First-Class Honours in English and Drama, Sabrina Bucknole started off her career as a freelance writer. She then joined Further, a digital marketing company based in the United Kingdom, where she currently works as a professional copywriter. When she's not writing about travel, expats and healthy living, she spends her spare time looking for her next adventure abroad.
May 10, 2019
Relocating your family to a new country can be difficult enough, but there are a few things you can do beforehand to help your children prepare for the change. One of the best ways, and arguably most exciting ways to help your child settle into the new culture is by delving into the country's delicious cuisine. Here are a few traditional and healthy Singaporean dishes for both you and your children to try, to help you all adjust to the country's rich culture through food.
Hainanese Chicken Rice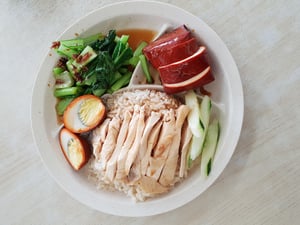 One dish both you and your children should definitely try is Singapore's national dish, hainanese chicken rice. Well-loved by the country and its people, hainanese chicken rice is a rice-based dish with succulent steamed chicken, cooked in chicken stock with ginger and pandan leaves, then served with a spicy chilli sauce. But to your children, it's just 'chicken and rice' - and who can argue with that?
Wonton Mee
Many Singaporean dishes, such as this one, are noodle- based and inspired by a beautiful fusion of cultures from all over the world. This wonton noodle dish in particular, is thought to be influenced by Hong Kong and Malaysian cuisine, but has become integrated into Singaporean culture over time.
The Singapore version of wonton mee is typically served 'dry' with slices of pork char siew, dumplings, and a bowl of wonton soup on the side. The level of spice depends upon your preference - if you want it spicy, then it will usually be made with chilis. To make it less spicy for your children, it will usually be mixed with tomato sauce instead.
Laksa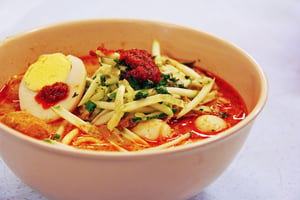 Laksa is a delicious fusion between Chinese and Malay cuisine. There are two main types of laksa – curry laksa and asam laksa. The former is much more popular in Singapore while the latter is typically found in Malaysia. While there are many variants of this delicious dish, traditional Singaporean curry laksa uses vermicelli noodles, coconut milk, tau pok (beancurd puffs), fish slices, shrimp and hum (cockles). If your children aren't keen on seafood, vegetable versions are easy to find.Another variant of laksa, prominent in Singaporean cuisine is katong laksa. The defining difference of this dish is that the vermicelli is cut into shorter pieces and is traditionally eaten with a spoon. Not only is this dish popular with Singaporeans, it's also a family favourite.
Rojak
To help your children along with their five-a-day, one nutritious and traditional Singaporean dish to introduce to them is rojak. Rojak is a popular salad made with a variety of fresh vegetables and fruits, smothered in a sweet and sour sauce that is sure to delight.
Nasi Lemak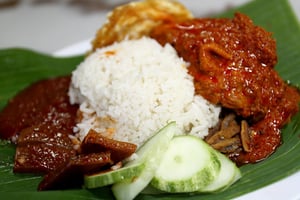 While this dish finds its roots in Malaysian cuisine and is still a very popular dish is Malaysia, nasi lemak is also well-loved in Singapore. Translated from Malay, nasi lemak means 'rich rice' - not because it's an expensive dish but due to the rich taste caused by the coconut milk infused rice.
The dish is made up of aromatic rice marinated in coconut milk and pandan leaves. It's typically served with deep-fried fish or chicken wings, otah (grilled fish paste), peanuts, eggs, cucumber slices, and sambal (spicy chilli paste). As a simple rice-based dish, your children are sure to enjoy it and if not, there are plenty of other mouth-watering Singaporean dishes to try.

Fish head curry
Kids love an adventure, and what could be more adventurous than trying a curry… with fish heads. If they're fans of I'm A Celebrity Get Me Out Of Here, they're bound to love the challenge of munching on something a little unusual! This dish is usually made with a mix of vegetables, eggplant, red spicy gravy, and, of course, fish heads. It's not one for every child, but little explorers might be tempted into giving it a go.
Satay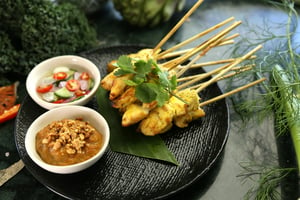 A dish you may be familiar with depending on where you're originally from is satay. Satay is simply skewered meat (chicken, beef, mutton, pork) marinated in turmeric which is then grilled on an open fire. Originally from Indonesia, this dish is has become a common find among Singapore's hawkers (food stalls). Satay is commonly served with a ketupat (rice cake), onions, cucumbers, and a delectable peanut dip.
Kaya toast
As breakfast is the most important meal of the day, it only feels right to include one of Singapore's most traditional breakfasts - kaya toast. Kaya toast is simply toasted bread lathered in butter and kaya - a delicious jam made from eggs, sugar, coconut milk and pandan leaves. It is usually served with soft-boiled eggs, and your kids are sure to love it.
As well as delicious Singaporean meals, there are also plenty of healthy international options to choose from, including Chinese, Indian, Italian, Japanese, Mediterranean, Mexican and more. But to truly experience the country's culture and integrate with the local community, it's best to try the local and national cuisine.
Not only should these delectable dishes help your children stay healthy in Singapore, it will also help them integrate into the country's rich culture and make them feel at home.